Zoekt u een mooi overhemd voor met een uitstekende prijs / kwaliteit verhouding? Kijkt u dan eens bij onze uitgebreide collectie Ledûb overhemden. Ook dit voorjaar hebben we weer mooie items aan het Ledûb assortiment toegevoegd. In frisse kleuren zoals helderwit, mauve roze, asterblauw en amandelbruin. Effen dress shirts hebben mooie contrasten waardoor ze trendy ogen. Daarnaast zijn ook de overhemden met klassiekere designs zoals de balkstreep of bakkersruit in rood of blauw weer volop verkrijgbaar.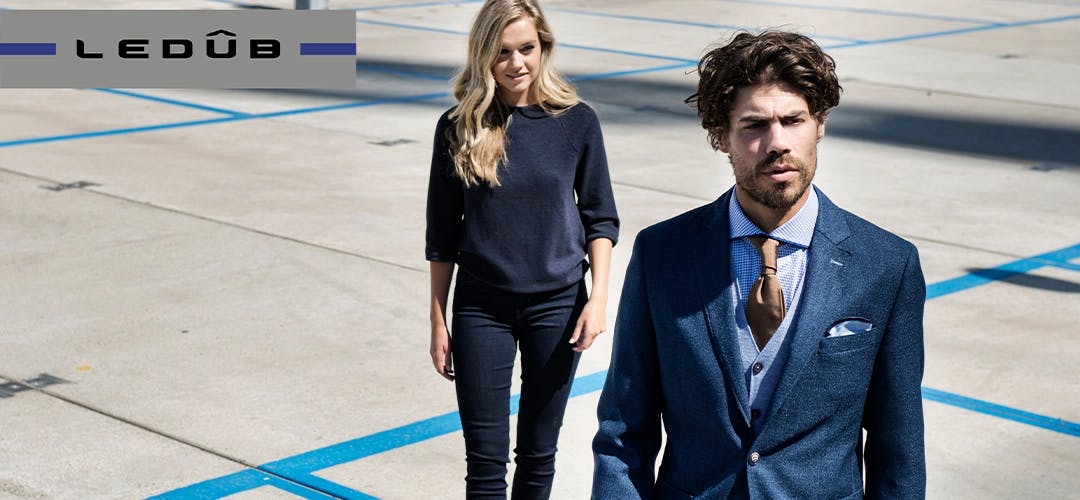 Een Ledûb overhemd is in meerdere pasvormen te bestellen: de wijdere pasvorm (regular fit), iets getailleerde normale pasvorm (modern fit) en de slanke pasvorm (tailored fit). Soms kunt u ook een nog slanker vallend overhemd aantreffen. In dit overhemd is het slim fit label genaaid.
De mooiste kwaliteiten
De shirts zijn vrijwel altijd gemaakt van 100% katoen. Koele stoffen die comfortabel dragen, ook bij hogere temperaturen. Ook de strijkvrije overhemden zijn van 100% katoen gemaakt en passen perfect onder een colbert of boven een casual broek of jeans. Nog mooier van kwaliteit zijn de two ply shirts, gemaakt van dubbel getwijnd katoen. In de comfort blend overhemden is een klein percentage polyester verwerkt, dat zorgt voor een aangenaam zachte 'touch' op de huid.
Een Ledûb overhemd voor elke man
Heeft u een grote maat of extra lange mouwen nodig? Onze boordmaten gaan tot en met maat 54, vergelijkbaar met maat 5XL. Overhemden met extra lange mouwen vindt u onder de Ledûb mouwlengte 7 overhemden. Hieronder treft een kleine selectie uit ons grootse aanbod.
Meer nieuwe collectie business overhemden
Arrow overhemden, Cavallaro overhemden, Circle of Gentlemen overhemden, Eterna overhemden, Eton overhemden, Gentiluomo overhemden, Hugo Boss overhemden, Jacques Britt overhemden, John Miller overhemden, Ledub overhemden, Olymp overhemden, Profuomo overhemden, Tommy Hilfiger overhemden, Polo Ralph Lauren overhemden, R2 overhemden, Seidensticker overhemden
Meer informatie
overhemden extra lange mouw, strijkvrije overhemden, overhemden en herenkleding, business overhemden, mouwlengte 7 overhemden